The Day We Fight Back
February 11, 2014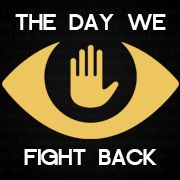 The US government has been spying on millions of ordinary people since 2001. Today, we fight back.
As the Snowden files have clearly shown, the US government has engaged in massive illegal  surveillance of the communications and communications records of millions of ordinary people all over the world.
Even though the massive surveillance by the NSA has received a lot of coverage during the last couple of months, it has been going on for quite some time. According to the Electronic Frontier Foundation (EFF), the US government has been spying on us at least since 2001.
Today, NGOs and individuals all over the world fight back and demand an end to mass surveillance. Hundreds of organizations and more than 55 000 individuals have endorsed thirteen principles on the application of human rights to communications surveillance:
Legality
Legitimate aim
Necessity
Adequacy
Proportionality
Competent judicial authority
Due process
User notification
Transparency
Public oversight
Integrity of communications and systems
Safeguards for international cooperation
Safeguards against illegitimate access
Demand an end to the mass surveillance of innocent people. Endorse the principles today. For today is the day we fight back!